The LUXAIMerman single-column LUXMAIN in-ground lift is ideal for car wash beauty, car modification, Quick repair and other auto repair industry. Due to its chrome lift, rust and corrosion resistance, and single column LUXMAIN in- The Single Post Inground Car Lift is waterproof and dust-proof, so it is not suitable for a car wash like an ordinary lift.
The company's lifts are also available in a variety of forms, from the column structure to the classification, mainly the Single Post Inground Car Lift, double-column lift, four-column lift, scissor lift and trench lift Wait.

Company Information: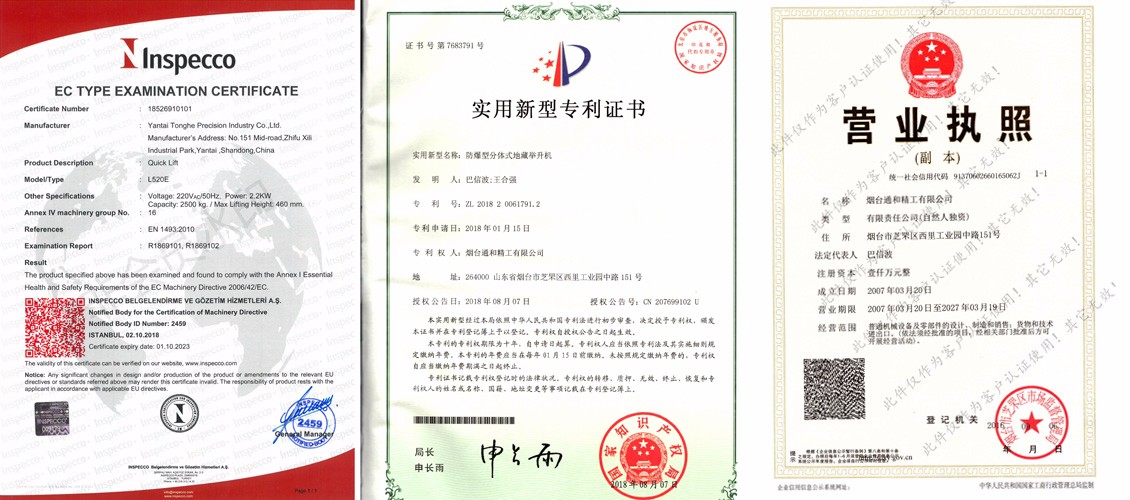 LUXMAIN Precision Industry Co.,Ltd was founded in 2007, locates in Yantai City. We are a manufacturer of inground car lifts and a member of China Automobile Maintenance And Repair Equipment Trade Association.

Equipped with over 100 sets of advanced manufacturing equipments and precision inspection instruments, LUXMAIN dedicates in the design & development, manufacturing and services of inground lifts, hydraulic cylinder and hydraulic control system. The annual production capacity in inground car lifts reaches 10,000 sets, specialized high pressure oil cylinders reaches 40,000 pieces and hydraulic control system reaches 10,000 sets. The products are mainly car jack lift, Quick Lift, Inground Lift, etc. Our products are widely applied in Automotive Industry, Vehicle maintenance, Construction machinery etc.
FAQ:
1.How about the package of the quick lift and the capacity of one 20'container ?
The lifting frames are packaged individually in cartons and the power unit is packaged in wooden cases. Each 20-foot cabinet can hold 75 sets of equipment。
2.Can the quick lift be used on a sloped ground?
To the extent of ensuring the safety of vehicle and operator ,Slopped ground or non-hardened ground is not recommended used
Is Luxmain quick lift can be used on glass steel grille? What is the minimum thickness of glass steel grille
Can be used on glass steel grille , but the glass steel grille can not be overhead.
Shown as below:。
3.Can the power supply of LUXMAIN Quick Lift be 110V or 380V?
The 110V power supply can be realized by supporting the corresponding 110V power unit; for safety, the 380V power supply is not recommended.
By changing the power outlet, it can adapt to the power interface standards of all countries in the world.
4.What is the weight of Luxmain Quick Lift?
The single-sided lifting frame weighs approximately 42kg and is equipped with a roller that can be dragged or translated. The power unit is about 23kg.
5.What is the warranty of Luxmain Quick Lift ?
One year