Audi Scissor Car Quick Lift is an automotive repair machine for the automotive repair industry. Hydraulic system to drive lift, also known as hydraulic lift, plays a vital role in vehicle maintenance and maintenance. The vehicle overhaul and maintenance are inseparable from the hydraulic lift. With the increase in the sales volume of automobiles in China, the lift is an important tool for vehicle maintenance, and the demand is also greatly increased.

| | | | |
| --- | --- | --- | --- |
| Model No | L-750E | Supply Voltage | AC220V |
| Frame spread length | 1746mm | Mini Height | 88mm |
| Frame Length | 1468mm | Max.Lifting Height | 460mm |
| Max.Lifting Capacity | 3500kg | Single side width of lifting frame | 315mm |
| Single frame weight | 42kg | Power unit weight | 20kg |
| rising/lowing time | 20~30sec | oil tank capacity | 4L |
Audi Scissor Car Quick Lift is divided into large shears (female and female), small shear (single shear) lifts, ultra-thin series lifts, and small shear lifts are mainly used for vehicle maintenance and repair, with high safety and convenient operation. . After grooving, it is level with the ground. The large shear lifts are more abundant, and are the best equipment for the four-wheel aligner, and can be used for vehicle maintenance, tires, and chassis maintenance. It can be grooved or installed directly on the ground.
The ultra-thin series of scissor lifts do not require trenching and are suitable for any repair shop. Some floors are not suitable for installing two-post lifts and ordinary four-post lifts, and the machine has a wide contact with the floor so that it can be installed in Any floor that can be driven to solve customer site problems. Audi Scissor Car Quick Lift is the mainstream product of the future, and it is widely used abroad.
Company Information:
Yantai Tonghe Precision Industry Co.,Ltd was founded in 2007, Equipped with over 100 sets of advanced manufacturing equipments and precision inspection instruments, Yantai Tonghe dedicates in the design & development, manufacturing and services of inground lifts, hydraulic cylinder and hydraulic control system. The annual production capacity in inground car lifts reaches 10,000 sets, specialized high pressure oil cylinders reaches 40,000 pieces and hydraulic control system reaches 10,000 sets. The products are mainly car jack lift, Quick Lift, Inground Lift, etc. Our products are widely applied in Automotive Industry, Vehicle maintenance, Construction machinery etc.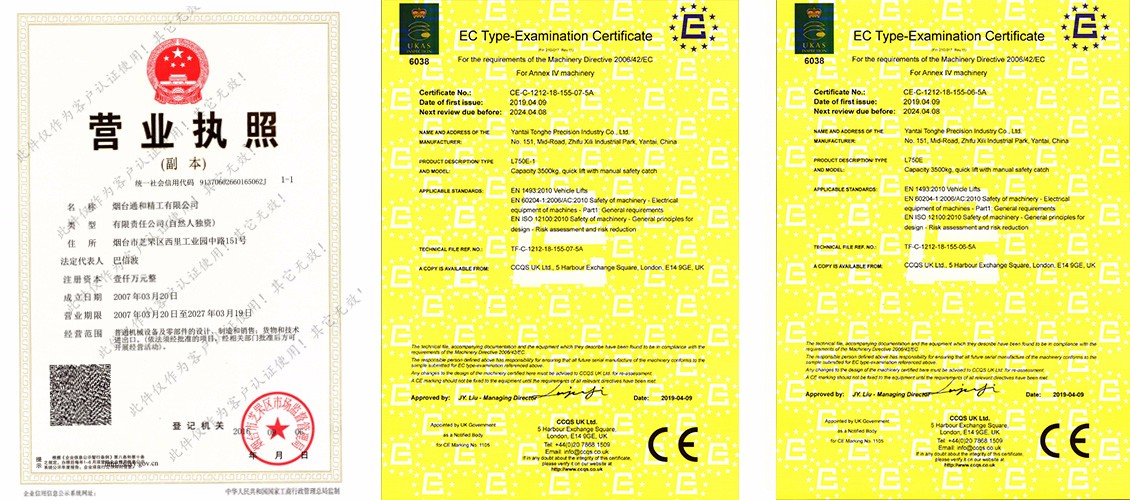 Companies keep the direction of "professional, standards ,innovation", guided by technological innovation, quality assurance as a guarantee, to provide users with safe, accurate and efficient standardized products, personalized customization.
FAQ:
1.What kind of vehicles can LUXMAIN quick lift be lifted?
The quick lift is suitable for vehicles with a wheelbase between 2400mm and 3000mm, which includes most A and B class vehicles and some C-class vehicles.
2.What is the maximum lifting weight of LUXMAIN Quick Lift?
Depending on the type of product, the maximum lifting weight of Quick Lift can be within 2.5t or within 3.5t. This figure also covers most of the daily use vehicles.
3.Can the power supply of LUXMAIN Quick Lift be 110V or 380V?
The 110V power supply can be realized by supporting the corresponding 110V power unit; for safety, the 380V power supply is not recommended.
By changing the power outlet, it can adapt to the power interface standards of all countries in the world.
4.What is the weight of Luxmain Quick Lift?
The single-sided lifting frame weighs approximately 42kg and is equipped with a roller that can be dragged or translated. The power unit is about 23kg.
5.What is the warranty of Luxmain Quick Lift ?
One year
6.Is Luxmain quick lift waterproof,dustproof,corrosion resistant?
It has excellent waterproof,dustproof,corrosion resistance, and the lift can even reach the level of "bubble water", which can adapt to work in muddy and humid environment for a long time.