You got a quick jack? Oh come on, it's just a jack, you need a Electric Car Lift.A jack is very convenient of couse, but a LUXMAIN Quick Lift is much more convenient then a jack.LUXMIAN Portable Quick Lift Which is a convenient and portable electric hydraulic car lifting system .It can lift a vehicle by directly using itself power supply . From handling to use,From tire maintenance to chassis cleaning .LUXMAIN Quick Lift make everything just easy.You can do more with LUXMAIN Quick Lift with less space.Benefiting from its convenient roller design,It is can be lifted and towed with one hand.
Just put the left and right lift frame on each side of the vehicle before use.Get rid of the dependence on power supply and venues in road rescue, door-to-door service, car wash and beauty industry.LUXMAIN Electric Car Lift has Excellent waterproof and anti-corrosive properties.The whole frame can even be soaked in water.All the parts, including packaging box,Can be loaded by a van.LUXMIAN Portable Quick Lift have got the CE certification ,too.

Company Information:
Yantai Tonghe Precision Industry Co.,Ltd was founded in 2007, Equipped with over 100 sets of advanced manufacturing equipments and precision inspection instruments, Yantai Tonghe dedicates in the design & development, manufacturing and services of inground lifts, hydraulic cylinder and hydraulic control system. The annual production capacity in inground car lifts reaches 10,000 sets, specialized high pressure oil cylinders reaches 40,000 pieces and hydraulic control system reaches 10,000 sets. The products are mainly car jack lift, Quick Lift, Inground Lift, etc. Our products are widely applied in Automotive Industry, Vehicle maintenance, Construction machinery etc.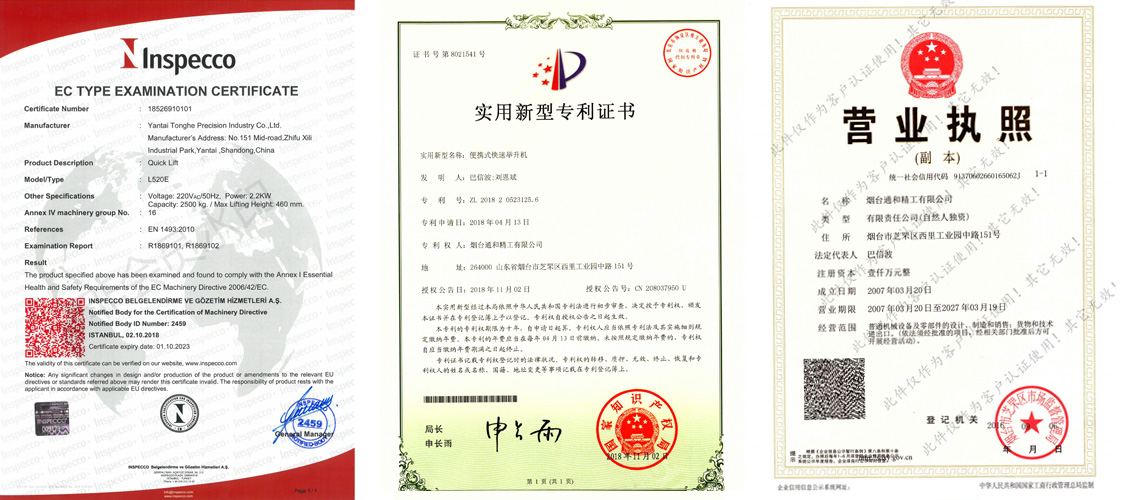 Companies keep the direction of "professional, standards ,innovation", guided by technological innovation, quality assurance as a guarantee, to provide users with safe, accurate and efficient standardized products, personalized customization.

FAQ:
1.What kind of vehicles can LUXMAIN quick lift be lifted?
The quick lift is suitable for vehicles with a wheelbase between 2400mm and 3000mm, which includes most A and B class vehicles and some C-class vehicles.
2.What is the maximum lifting weight of LUXMAIN Quick Lift?
Depending on the type of product, the maximum lifting weight of Quick Lift can be within 2.5t or within 3.5t. This figure also covers most of the daily use vehicles.
3.Can the power supply of LUXMAIN Quick Lift be 110V or 380V?
The 110V power supply can be realized by supporting the corresponding 110V power unit; for safety, the 380V power supply is not recommended.
By changing the power outlet, it can adapt to the power interface standards of all countries in the world.
4.What is the weight of Luxmain Quick Lift?
The single-sided lifting frame weighs approximately 42kg and is equipped with a roller that can be dragged or translated. The power unit is about 23kg.
5.What is the warranty of Luxmain Quick Lift ?
One year
6.Is Luxmain quick lift waterproof,dustproof,corrosion resistant?
It has excellent waterproof,dustproof,corrosion resistance, and the lift can even reach the level of "bubble water", which can adapt to work in muddy and humid environment for a long time.